From La Brutal we want to launch a series of courses this July:
Last November we premiered our space in Poblenou (Bolivia, 46). And now that we have a place that allows it, we think it is a good time to open ourselves to all those professionals who want to know us better and may be interested in our way of working.
We propose a series of courses that have the actor as the protagonist and not just shoot in one direction. We want to offer the possibility for the actor to train.
---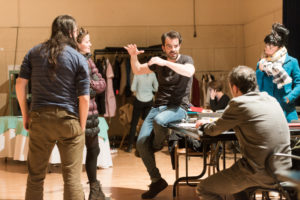 LA BRUTAL, THE GAME AS A METHOD
Workshop with David Selvas
In this first batch of courses that we are organizing, we would like to share with all those interested in our productions, how we approach the work inside the rehearsal room. We propose a work of scenes emphasizing the actoral game and contemporaneity, starting from the relational and situational fact. We will deal with scenes from texts that we will produce in the next three seasons and other texts that we feel like doing. There will be both updated versions of classic texts and contemporary texts. We like to work taking advantage of the actor's personality. We believe that it is this type of actor who makes himself heard and looks up at the stage, because he is unique and original. From this premise we will approach the scenes.
Dates: 17th to 22th july (Tuesday to saturday)
Timing: from 10h to 14h
Price: 280€*
Location: La Brutal – Bolívia, 46.
---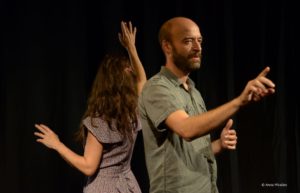 HOW TO START A CREATION PROCESS
Workshop with Norbert Martínez
This course is aimed at all those interpreters and companies who want to succeed in a creative project. Those who have already started to generate material, or who have the idea of doing so, but do not know how to develop it or who are interested in knowing how to articulate a creative process, starting from a text or not. Too often the courses offered do not respond to these concerns of authorship and creation and are too focused only on interpretation. Without forgetting the actoral gaze, Norbert proposes a work that allows us to generate material, organize it and give it a show format.
In addition, so that the participants of the course can have a plus of looks on their projects and in order to enrich the process, we will count on the collaboration of Sergi Pompermayer, to advise on the dramaturgic needs, and with a stage designer to be able to propose possible scenographic solutions.
Dates: From 10th to 21th july ( Monday, Wednesday and Friday)
Timing: de 16h a 20h
Prize: 280€*
Location: La Brutal – Bolívia, 46.
---
ACTORAL TRAINING
Workshop with Sandra Monclús
Our first vocation, that of actors, makes us put acting training in the center of these first courses that we organize at La Brutal. We want them to be a complement for all those who want to do the two other courses that we propose but also, whoever wants, can do it autonomously.
Dates: from 25th to 29th  july ( from Tuesday to Saturday)
Timing: de 10h a 13h
Prize: 180€*
Location: La Brutal – Bolívia, 46.
*DISCOUNTS
10%  discount to members of  AADPC
Packs 2 courses:
HOW TO START A CREATION PROCESS+ ACTORAL TRAINING = 252€+162€
THE GAME AS A METHOD+ ACTORAL TRAINING = 252€+162€
PAYMENT
Bank transfer.  Last day July  7th

INSCRIPTION
Mail to cursos@labrutal.com with a brief explanation on why you wnat to join the courses.
You can also call +34 933606423